I am heartbroken and outraged over the recent terror attacks against Asians (that have increased dramatically since the beginning of the pandemic). It's hard to put exactly into words the emotions that I feel right now, and the anxiety I have while worrying about the safety of my grandparents, parents, friends and myself living in a North American, English-speaking country.
---
We hope everyone has been having a great new year so far!  This year's Lunar New Year is happening on Friday, February 12, 2021 and we have an exciting new promotion during these next couple of weeks. Starting today, we will be offering our orbital-use gua sha tool for free on all orders above $50. It is made with natural stone, beautifully hand-carved, and the long and slender shape is ideal for massaging around the orbital bone and temples. You can also use it as a little scoop for your face masks for an extra cooling sensation (you waste less product than by using your...
---
We just want to say thank you to all of you! It means the world to us when you choose to support small businesses such as ours, especially during these challenging times. We are so grateful to be able to keep in contact with you either at the farmers' markets or through our social media accounts. We love being able to chat with you about Pithy, herbs, Traditional Chinese Medicine, and everything else in-between. Since we are nearing the holiday season, we wanted to have a sale as a way to say thank you. So from now to December 6th, 2020 we will be...
---
As a minority-owned and operated business, our goal has always been to promote diversity and inclusivity in our communities. These past few weeks have been extremely disheartening and painful; our hearts are heavy over the tragic deaths that have resulted from racial injustice, police brutality, and systemic racism. Recent injustices over the past few weeks have once again shone a spotlight on structural and institutional racism which pervades every corner of our society. This problem is not unique to the United States; racism persists around the world and is prevalent and burrowed into all aspects of our lives whether we have the privilege of turning a blind eye or have the pain of suffering from it. 
We need to work together to inspire action in those around us by educating ourselves and others, peacefully speaking out, donating time or money, signing petitions, and making a stand against those systems that oppress and devalue Black lives. We can do better and be better. 
---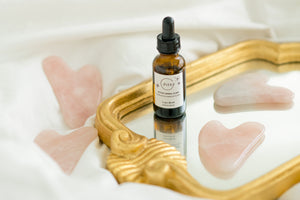 It's that special day of the year to celebrate the most wonderful woman in your life!
Give the gift of glowing, beautiful skin + an invigorating natural stone massage tool.
Our Mother's Day gift set includes our bestselling Active Herbal Elixir (customers have said this is the best face oil they have ever used!) and our gua sha massaging stone (with the colour of your choice). The discounted amount is only $62 CAD! 
These two items are 100% natural and are meant to go hand in hand because they work so perfectly together. With this special price, you get the gua sha for 50% off the original price. We also wrap it up nicely in a gift box so that it's ready for gifting.